Please click here to read the latest parent hand guide from Monkhouse with regards to getting ready for September 2022 uniform.
Message from our uniform shop

In what is normally a quiet time of year for the schoolwear industry, we have received a high volume of orders as schools go back after a long break, during what has quickly become a mini Back to School period.

Like all retailers across the country, we have been protecting the jobs of our colleagues, working with a reduced workforce due to the current government guidelines and using the Furlough scheme. In preparation for the March 8th Back to School, we have un-furloughed colleagues and ramped up our operation to handle the increase in demand.

Our operations team are working increased hours to pick, pack and despatch orders as quickly as possible. But with order volumes at our August peak levels, this is proving challenging.

We aim to deliver most orders within our service level but some may take a little longer. To provide extra help and support, we have increased our customer service team to handle higher levels of calls and emails.
Please click here to see the parent guide which contains important information.
Uniform updates on purchasing
For information on our uniform expectations please refer to our Behaviour Policy by clicking here. NOTE! changes to the Primary PE kit have not been updated on this policy document but are compulsory from September – please see details above.
Uniform Guidance Nursery to Year 6
Uniform Guidance Year 7 to Year 11
Guidance on school shoes.
School Shoes
Our uniform supplier is Monkhouse, East Street, Bedminster, Bristol.
Order online https://www.monkhouse.com/c/4116/Bridge-Learning-Campus
Please ask a shop member for the Loyalty form. This allows you to collect points which can be redeemed for uniform purchases in the future.
Some logo Items are also available from My Clothing Embroidery Service.
Please click here for My Clothing: https://myclothing.com/
Primary PE Uniform
he kit is compulsory for Reception to Year 6, with an option for Nursery children if they would like to wear it. If you child is currently in Year 5 and Year 6 they can continue to wear the navy PE top if you already have one. If you are purchasing new PE kit then please purchase the new colour kit.
We have taken views from parents, staff and pupils with the new kit. Giving pupils in Reception to Year 4 the option to wear PE kit all day on the day they have PE has worked well this year and saved teaching time and hopefully lost kit. We will continue this next year. Many pupils' feedback was that in the colder months they would like something warmer to wear. We also saw an increase of hoodies starting to be worn and coloured tracksuit bottoms. The hoodies are an obvious health and safety risk in school, especially during a PE lesson, so we have reflected on this with the PE department and introduced a PE long sleeved jacket. Knee length socks will continue to be part of the kit. We hope you like the new kit as much as the staff and children do!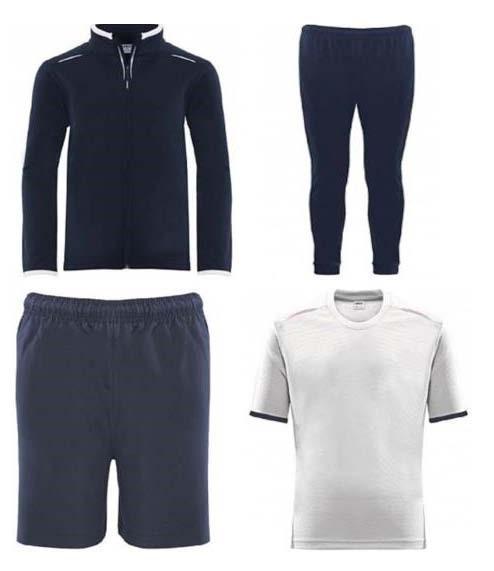 Primary PE Uniform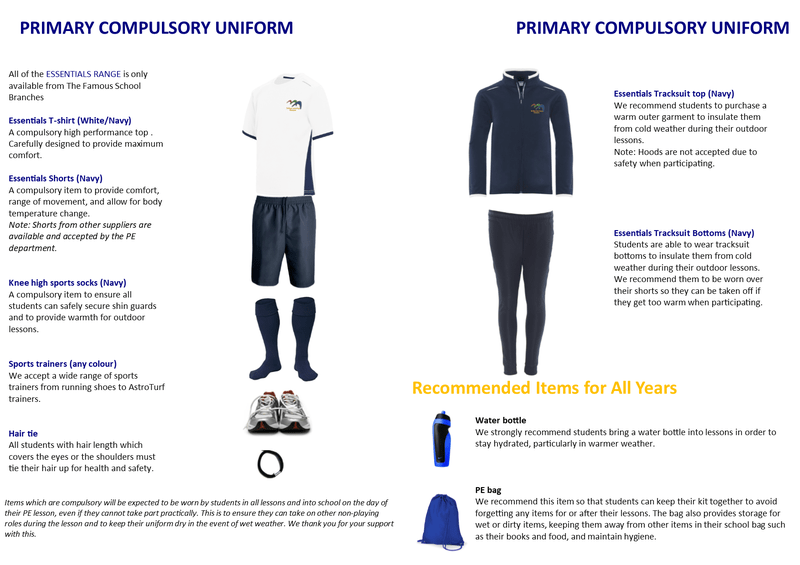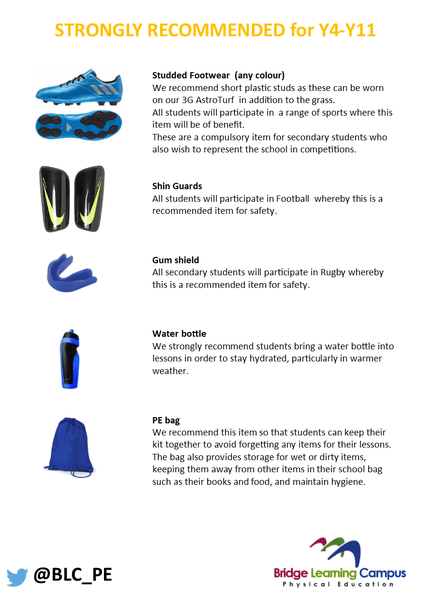 Secondary PE Uniform