Attendance at Bridge Learning Campus
Leave of Absence Request
Please click here to complete an online request for absence.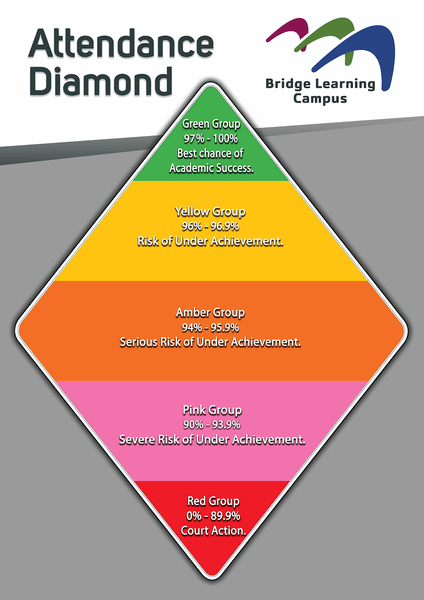 Everyday Counts!
Attendance and Punctuality is extremely important throughout our whole school campus and we recognise the impact Attendance can have on your child's learning experience. Here at Bridge Learning Campus, we are dedicated to raising standards and pupil attainment.
Our Attendance Diamond, shown above, is displayed around our school.  We discuss attendance each week, celebrate our successes and encourage those who need extra support.
Please read through the following guidance for the latest information. Should you need to speak to someone regarding your child's attendance please get in touch with us and we will be happy to support you.
Term Dates 2020-21
Term 1: Tuesday 1st September 2020 to Friday 23rd October 2020
Term 2: Monday 2nd November 2020 to Friday 18th December 2020
Term 3: Monday 4th January 2021 to Friday 12th February 2021
Term 4: Monday 22nd February 2021 to Thursday 1st April 2021
Term 5: Monday 19th April 2021 to Friday 28th May 2021
Term 6: 7th June 2021 to Friday 16th July 2021
Inset Days 2020-21
These are our planned dates for our Inset Days, please remember they could change with on-going circumstances and challenges around Covid-19.
Inset Day 1: Tuesday 1st September 2020
Inset Day 2: Wednesday 2nd September 2020
Inset Day 3: Friday 23rd October 2020
Inset Day 4: Thursday 1st April 2021
Inset Day 5: Friday 25th June 2021
School Attendance Information 21-22
Attendance Information Leaflet 21-22
Attendance Penalty Notice Information
Important Information – Requesting Term Time Absence